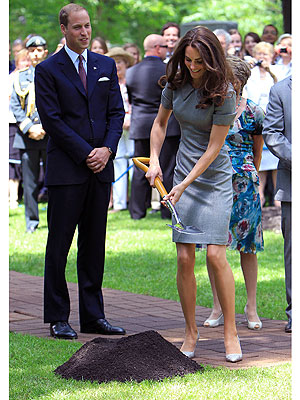 Macpherson/Gillis/ Splash News Online
Just two months into
their marriage
,
Prince William
and
Duchess Catherine
were looking to the future on the third day of their Canadian tour ? 800 years in the future, to be exact.
The couple, energized from Friday's Canada Day festivities, planted an Eastern Hemlock tree in the shadow of the Pin Oak planted by William's parents, Prince Charles and Princess Diana, on June 21, 1983 (the prince's first birthday).
The native species planted by William and Kate will serve as an enduring symbol of the couple's love for 800 years.
William, 29, took a deep breath as he was shown the plaque bearing his late mother's name on one of the more than 120 commemorative trees gracing the grounds of Rideau Hall, the home of Canada's governor general.
The couple's tree is surrounded by red oaks planted by other members of the Royal Family, including the Queen's, which was planted in 1977.
The tree-planting tradition was first started by Japan's Prince Fushimi when he made the first official foreign royal visit to Ottawa in 1907, and the Royal Family has planted 16 ceremonial trees since 1939.
Celebrating Love
Later, the couple met newlyweds who married on the same day as them ? April 29 ? this year, as well as couples celebrating their 50th, 60th and 70th wedding anniversaries.
Kate, 29, who glowed in a grey Catherine Walker dress, smiled as Adrienne Charlebois, who was celebrating 50 years of marriage to her husband Denny, said, "I hope you will be as fortunate as we have been in our marriage."
The royal couple looked at each other and replied, "We hope so, too."
"Tremendous Lift"
With their love for each other front-and-center at the tree-planting ceremony, the Duke and Duchess of Cambridge also showed their compassion for others as they reached out to comfort a cancer patient who was recently told he had only 12 weeks to live.
In scenes that brought back memories of Princess Diana's ever-caring spirit, the royal newlyweds bent down to speak to wheelchair-bound Terry Joyce, 47, a former computer expert from Ottawa. Terry struggled to his feet and lent against a walking frame as William arrived, telling him to sit down and relax.
"Let's get you out of the sunlight, Terry," Kate said as she shook his hand.
After the couple left, Terry, who lives in the Bruyere Hospice, burst into tears. "This has given me a tremendous lift," he said. "It goes to show that we have a wonderful monarchy, and we really need people like this."
He added: "I was told a week ago I would be meeting them and I have been looking forward to it ever since. It has been one of the best days of my life."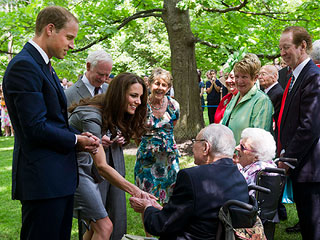 Nathan Denette / The Canadian Press / AP
Source: http://feeds.people.com/~r/people/headlines/~3/JtXmUUlpsGo/0,,20395222_20507657,00.html
Joanne Montanez Sara Foster Leeann Tweeden Kate Hudson Lauren Conrad